As a business website owner, it's normal to want to drive quality traffic to your website to increase your chances of succeeding with online sales. One pivotal way to achieve this goal is to target the right audience with high-intent keywords.
If you're yet to understand what a high-intent keyword means, I want you to know one thing before you continue reading – your target audience is searching online with keywords, and there is a defined reason (intent) behind every keyword they type into the search engine.
While many prospects use purely informational keywords, some use search engines to compare and buy products. These customers use keywords slightly different from what a user seeking basic information uses.
And these keywords are called high-intent keywords.
High-intent keywords indicate a person is ready to purchase or take a specific action. As a business website owner, you must know about these keywords, how to find them, when to use them, and how to effectively use them to drive conversions.
In this post, I will cover:
Different types of search intent
High-intent vs low-intent keywords
The role of high-intent keywords in SEO
How to find high-intent keywords
But before we get into high-intent keywords, let's first understand the different types of search intent.
What is search intent?
Search intent, or user intent, is the specific purpose behind a user's online search query. It's the reason they're using specific terms or keywords when seeking information on search engines.
Understanding search intent is vital for providing content that addresses or provides the information the user seeks.
It's not enough to know what words and phrases people type into search engines when seeking specific information; you must know the underlying reason why they're searching. This helps you publish content that solves prospects' challenges and helps you meet your website goals.
Categories of search intent
Here are the four main categories of search intent:
Informational
Searchers searching with informational keywords are searching to learn about a topic. They need answers, explanations, and detailed or specific information.
Examples are:
How to cook a steak.
What are the symptoms of hepatitis B?
How many states are in the US?
Navigational
Users with navigational intent search for a specific website, brand, or online destination. They know where they want to go or what they're looking for; they just use search engines to navigate.
Examples include:
Yahoo contact page.
Yelp sign-up page.
Apple careers page.
Transactional
People with transactional search intent are ready to buy a specific product or pay for a service. Transactional keywords are often high-intent keywords.
Examples include:
Opal Nugget Ice Maker price.
Semrush price per month.
iPhone 15 Pro discount deals.
Commercial
People with commercial search intent are researching or looking to purchase a product or service. They're in the consideration stage of their buyer journey.
Examples include:
Best digital camera 2023.
Best plastic surgeon near me.
Compare Semrush vs. SpyFu.
Note that users' search terms indicate their buyer journey or sales funnel level.
For example, informational keywords are used by people at the early stage of their buyer journey (top of the sales funnel). In contrast, transactional terms are used by people at the decision stage of their buyer journey (bottom of the sales funnel).
What are high-intent keywords?
High-intent keywords are terms people search for online when they've decided to purchase a product or service. They indicate a strong intention from the searcher, as they're usually specific and action-oriented.
These keywords, also called buyer intent keywords, could include words like "buy," "best," and "discount," indicating that someone is actively searching for something specific to purchase. The prospects could be looking to compare products or get the highest discount on a product or service.
This shows that high-intent keywords are often commercial or transactional keywords. They're valuable to businesses and marketers because they often lead to conversions.
For example;
Someone searching for "buy shoes online" is more likely to convert than someone searching for "types of shoes."
You can see a high purchase intent behind high-intent keywords, and identifying and using these keywords can help you reach highly qualified prospects you can easily convince to make a purchase.
High-intent keywords could also indicate a specific brand, product, or even an exact model number. For example, "best hand-held blenders and "Whirlpool 12-cup blender" are both high-intent keywords.
Different types of high-intent keywords
High-intent keywords can be of 4 different types based on the search intent we saw earlier:
1. Brand or product
Brand or product keywords are usually navigational keywords or commercial ones for stores or discounts.
For example, someone might want to explore the features of the latest Samsung Galaxy S22. So they enter this keyword to visit the brand/ product website.
Or, they could be searching for 'Samsung Galaxy S22 discount' or 'buy Samsung Galaxy S22' or 'Samsung Galaxy S22 coupon code'.
While it does not mean that the next step of searching for this keyword is a purchase, it definitely indicates that there is awareness and interest regarding this brand/ product.
2. Comparisons and reviews
Another type of high-intent keyword is reviews of a product or comparisons between a few similar ones.
Comparisons enable potential consumers to get a look at how two product offerings stack up against each other. Remember that the users are looking for objective and honest reviews which will help them take a decision about which product is best suited for them.
These could be relevant if you are an affiliate marketer because people want to read unbiased reviews.
You could also write comparisons of your product vs others in the market and mention honestly what you think are the pros and cons of each.
3. Specific geographical region
There could be times when someone is traveling, but they want to make arrangements beforehand. So they look up places beforehand, like 'hotels Amsterdam', or 'laundry services New York'.
It could even be a specific location for necessities like 'pharmacy Times Square Centre'.
Then Google finds businesses accordingly by location. The user may bookmark the places on their maps and visit them when they travel.
4. User location
The phrase 'near me' is a very common search associated with any brand or service, especially the latter.
For example, 'pizza near me', 'spa near me', 'Nike shoes near me' etc.
This works similarly to the geographical-region keywords where Google searches for the best answer by location.
Google identifies the location of the user. It then answers their search of the high-intent keyword 'X near me' by prompting businesses in the exact location of the user.
High-intent vs. low-intent keywords
Low-intent keywords (informational keywords) are terms that people use to get information about a subject, solve a problem, and even read/ watch tutorials.
High-intent keywords lead to purchases and thus drive business sales. Low-intent keywords lead to users finding information on your website, which in turn helps you build authority and credibility.
So instead of a search like 'best blender ' a low-intent keyword could be 'what can you do with a blender' or 'how to use a blender'.
These types of keywords are useful for people who have not used a blender before and want to know it works. They are not ready to buy yet.
Pages that target low-intent keywords aim to only give general information and do not drive sales.
Pro Tip:
High-intent keywords can be further divided into very high intent and medium-high intent too. For example, 'buy Samsung Galaxy S22′ is very high intent, where the next step is a purchase.'Samsung Galaxy S22 review' is medium-high intent where there is an intent of purchase, but the user is still in the consideration stage of the marketing funnel and hasn't completely decided yet.
Here is a graphic that explains it well.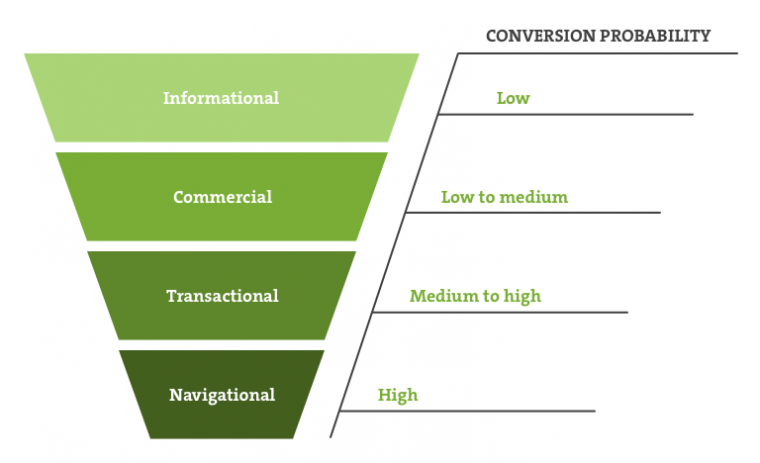 mage source: Inchoo
Types of high-intent keywords for every step of the customer journey
High-intent keywords differ depending on the prospect's position on the customer journey, from awareness to consideration and the conversion stage.
Here are some types of high-intent keywords for every step of the customer journey:
Awareness stage
The awareness stage of the buyer journey is usually associated with informational intent, as people here are still seeking to understand their problems.
However, since they already know they have a problem, people in this stage can also exhibit commercial or transactional intent by using high-intent keywords like;
What can I use to fix a broken screen?
Material to quickly fix a punctured tire.
Interest stage
People in the interest stage of the customer journey are aware of their problems and the brands offering solutions to them. They might also become interested in some brands based on the information they have.
Some examples of high-intent keywords in this step of the customer journey include;
Canon DSLR digital camera
Latest Apple iPhone 15
Often, the intent is to know more about the specific products, as the search might not immediately lead to a purchase.
However, if you tailor your content to their interests and include specific CTAs, you can get them to purchase a product.
Consideration stage
People at the consideration stage of their customer journey are aware of their problems, the solutions available, and the different brands offering them.
However, they're still trying to decide which is best for their needs.
People at this stage have commercial intent and often search with high-intent keywords that indicate they're comparing their options. Examples of keywords used here are:
Best content marketing tools.
Compare Semrush vs. Moz.
Conversion stage
The prospects at this stage of their customer journey need no further conviction on what they want. They only need a little push, which can be in the form of discounts, product scarcity, free trial, free shipping, etc.
The keyword intent types here are transactional, usually location-based or price-related.
The high-intent keywords here are in this form:
Laundry services in New York.
Hotels in Amsterdam.
Spa near me.
iPhone 15 Pro price
Gym centers with discounts near me.
Why your business should target high-intent keywords
High-intent keywords allow you to showcase your products or services to people at the decision-making stage (bottom of the sales funnel) of their buyer journey. These prospects are the best to target, as convincing them requires less effort and resources.
Unlike people at the awareness stage of their buyer journey, these people making searches with high-intent keywords are already aware of their problems and the various solutions available. They've compared their options or are currently comparing them and need a little nudge to decide.
The major benefit of targeting these keywords is that they drive conversions faster than others.
Furthermore, it's more cost-effective, as you don't have to spend resources nurturing prospects from awareness to when they decide.
Difference between high-intent keywords for commercial and transactional intent
High-intent keywords for commercial and transactional intent are closely related, as they offer more conversion chances than other search intents. However, they're different in a couple of ways, and as a business, you must understand these differences to provide the right content for targeting them.
High-intent keywords for commercial intent include terms like "compare," "best," "top," or "reviews."
They indicate that a potential customer is seriously weighing their options and has a serious intention to buy. However, they also show that the person isn't ready to buy, at least not immediately.
A few well-written product reviews or comparison content might be all it takes to nurture someone with such intent to become ready to purchase.
On the other hand, high-intent keywords for transactional intent indicate that a user is ready to buy.
They include terms like "buy," "discount," "order," "book," and other terms that show action-ready intent.
The best content types to use here are checkout pages, contact forms, product pages, etc., which makes it easy for the person to perform the desired action.
High-intent keywords examples
Here are some high-intent keyword examples you must know to make it easy to pick the best keywords from a cluster of keywords.
They're often keywords that have;
Best
Buy
Cheapest
Compare prices
Discount codes
Free shipping
Guarantee
Order now
Reviews
Price match
Shipping options
Fastest delivery
Next day delivery
Sales
Savings
Special offer
Exclusive offer
Trial
Where to buy
Cheap
Best price
X (products/service) near me
Best X (products/service) in Y (location)
Note: You can get an idea of a high-intent keyword by thinking about the kinds of searches you do when considering buying something.
How to find high-intent keywords
The best way to find high-intent keywords is to start with the money keywords of your small business brand like you would in a typical keyword research process. This lets you narrow your search easily and filter out low-intent keywords.
Here are 5 ways to find high-intent keywords.
1. Topic research
You can do your high-intent keyword research by researching the topic directly on search engines.
For example, when you type 'small business accountant' on Google, you will see articles written around the keyword. You'll also see the "people also ask" and "related searches" sections.
The first results you will see are likely low-intent keywords providing educational information about the keywords. However, the related searches section shows more high-intent searches.
For example, you'll see keywords like "accountant for small business near me," "small business accountant cost," "list of accounting services for small business," and "online accountant for small business."
These are high-intent keywords you can use to drive conversions for your business. You can further search these keywords to know their search volume and difficulty.
You can also perform topic research using the Semrush Topic Research tool. However, you'll need the Semrush Guru plan to access this feature. Want to try it out? You can use my affiliate link for a 14-day trial.
Essentially, you enter the topic in the tool, and Semrush will give you various sub-topics or ideas you could target.
Here's the result of my search for "small business accountant." You can see the commercial and transactional keywords in the image below.
2. Google Trends
Looking for insights on trending high-intent keywords?
Google Trends is a fantastic tool that helps you determine factors such as rising or falling interests related to certain topics or keywords.
3. Google Search Console
While it is great to find new keywords to target, Google Search Console is another great tool you can use to optimize your content for conversions. Find the buyer keywords you already rank for, and double down on them.
So you need to find the content that already ranks and update it to give it a boost.
If you have already had a website for some time, Google Search Console will show you the clicks and impressions of each search query.
Go to Performance -> Queries and check your impressions and clicks.
You can also compare your ranking keywords across countries and devices.
4. Filter by intent in Semrush
Semrush is arguably the only SEO tool that helps you understand the intent behind search queries.
While other SEO tools allow you to identify high-intent keywords, only Semrush has a search intent column that enables you to segment these keywords into search intents, making it easy to identify relevant keywords to target.
Go to your Semrush SEO dashboard and go to the Keyword Magic Tool. Enter your topic and country, and click on "search."
Many keywords will come up matching that topic.
Narrow your search further by clicking "intent," then choose navigational, commercial, and transactional. You'll get a list of high-intent keywords to target small businesses looking for accountants.
Assuming you're an accountant for small businesses, here is how you can find high-intent keywords with the Semrush search intent feature.
You can also exclude keywords that don't align with your business goals.
For example, you'll see high-intent keywords for accounting software, but since you provide a service and not software, they're not relevant to you.
To further confirm the relevance of the keywords you got from the exercise, you can examine the current interests and search volumes for the keywords using Google Trends or Semrush.
This ensures you're not ranking for keywords people no longer use in their search queries.
P.S. If you don't have a Semrush account, you can get a 14-day free access to try it out. (Remember, you'll need a credit card to sign up.)
5. Competitor research
A thorough competitor analysis is another way to find high-intent keywords.
Manually checking each competitor's website will be difficult and time-consuming. However, using an SEO tool with a comprehensive competitive analysis feature will facilitate the process and help you get better results quickly.
By simply analyzing a competitor's domain, you'll get a list of all the keywords it ranks for and how competitive they are.
If you're using Semrush, you can filter the results by intent, focusing more on navigational, commercial, and transactional keywords.
Other SEO tools may provide good results, but you must manually pick the high-intent keywords.
However, for faster results, you can search the result list with some high-intent keyword examples you know, such as "compare," "review," "near me," "services," "buy," "purchase," etc.
How to use high-intent keywords to drive conversions
The real purpose behind using high-intent keywords in your small business website and marketing campaigns is to drive conversions and boost your business's revenue.
It's essential because it ensures you only attract people already interested in what you offer rather than generating mass interest and ending up with low conversion rates.
Here are five ways you can use high-intent keywords to drive conversions:
1. Optimize your money pages for high-intent keywords
It's difficult to drive organic traffic to your money pages, such as the service pages, product pages, checkout pages, or landing pages, if you don't optimize them for high-intent keywords.
You must optimize the page's content by adding related and semantic keywords and internal links. Also, ensure the high-intent keyword is available in the title, meta description, URL, and alt texts of images used in the content to enable search engines to understand and rank those pages well.
You shouldn't neglect regular SEO maintenance if you must drive organic traffic to your money pages, as it helps you retain your organic position on search engines.
Here's an SEO success story of a bakery that achieved #1 on Google and gained 1M+ orders by using high-intent and buyer keywords.
2. Build topical authority for your website with low-intent keywords
Even though they can't generate instant sales for your business, low-intent keywords enable you to build topical authority and attract customers at the beginning of their buyer journey.
You'll be found on Google more easily and have a better search engine position for your high-intent keywords if Google considers you an authority on the topic.
For example, if you want organic traffic for keywords like 'discount code for product x,' you must create lots of content targeting low-intent keywords (informational) related to product x.
This free website content template will help you optimize your website content creation process, enabling you to build topical authority easily.
3. Use high-intent keywords in ads
If you're investing in ads, high-intent keywords must be at the core of your ad and digital marketing strategy. Ensure your ad copy is compelling enough and optimized with high-intent keywords strategically positioned throughout the copy.
Using high-intent keywords in your ads ensures your message resonates with your target audience and is displayed to users actively searching for what you offer, who are likelier to click on them and take action.
This increases your conversion rate and produces a much better return on ad spend.
4. Implement sales strategies on your website
To ensure a higher conversion rate from the organic traffic on your high-intent keywords, it's essential to implement effective sales strategies on your website.
This is because, even though most users are ready to buy, they might still need a little nudge to prompt them to take action.
These methods don't have to be complicated; they can be as simple:
Offering a lead magnet to website visitors from searches on particular high-intent keywords. A good example is a free demo or tutorial for the product.
Using a lead magnet to capture prospects' email addresses and send them feature/price updates of the products they're interested in.
Using popup offers to urge the visitor who is already interested in the product to go ahead and buy it. It could be an exclusive offer promising discounts, free shipping, or any other enticing offer.
For example, I'm an affiliate of Semrush. And I have plenty of blog posts that target high-intent keywords related to Semrush. I use a popup offering discounts or an exclusive 30-day free trial on these pages.
5. Implement local SEO strategies
Remember those location-type high-intent keywords like 'X near me?'
Since Google provides answers to users by aligning the user and the business location, you must create a Google My Business Profile that includes your address and contact details.
Also, include the same details on your website and ensure you get listed in local directories.
You can learn more about how to do this in this local SEO for small business article.
Use high-intent keywords to drive immediate conversions
Websites are crucial for small businesses, and high-intent keywords play a big role in the growth of every online brand.
They're what your content marketing strategy and on-page setup are based on. They also give Google a good understanding of what your site is about.
However, you must research and understand your audience and the reasons behind the search terms they use to enable you to target and convert them effectively and save money, time, and effort while driving the growth of your business. I hope these insights on how to use high-intent keywords effectively inspire you to business success.
Which methods do you use to find high-intent keywords to drive conversions? Share in the comments!