As a small business owner, you're always looking for ways to improve your website and online presence.
This makes SEO very important, and one tool that can help is Semrush.
Semrush is a powerful analytics tool that can give you insights into your website's performance, including traffic data, organic keywords, and competitor analysis.
I absolutely adore this tool and in full disclosure, am an affiliate marketer for it.
However, Semrush also has its pros and cons, which you should consider before deciding whether or not to use it.
In this post, I'll review the Semrush pros and cons from my experience so that you can make an informed decision about whether or not to use it for your business.
What is Semrush?
Semrush is a comprehensive marketing toolkit that can help businesses of all sizes to achieve their marketing goals.
If you want to check out this tool while reading this post on the Semrush pros and cons, you can use my affiliate link to get an exclusive 30-day free trial.
The regular trial period is for 7 days.
Now let's get into the Semrush pros and cons so you can decide if this tool is a good fit for you in the long run.
Semrush Pros & Cons
Semrush Pros
1. All-in-1 Marketing Toolkit
One of the reasons I am a big fan of Semrush is that it is not just an SEO tool. It is an all-in-1 marketing toolkit that provides you with the insights and tools I need to improve my online visibility and reach my target audience.
It gives you detailed insights into your website's traffic, SEO, PPC, social media, content marketing, and more. Basically, it helps you to track your progress and performance in all aspects of your internet marketing efforts.
Additionally, it can also help you to spy on your competitors and see what they are doing well or badly so that you can improve your own SEO strategies.
2. The best keyword research tool
Yes, literally. Semrush's keyword research tool is the best in my opinion, compared to all other SEO tools. @semrush #seo #keywordresearch
Click To Tweet
Here's why.
Semrush has the most comprehensive keyword database with over 20 billion keywords. So you can find the most relevant keywords and content topics for website optimization, no matter what industry you're in.
Here are more reasons why I believe that their keyword research tool is the best among all the SEO tools in the market.
1. Get the most up-to-date keyword stats
A big pro of Semrush is that besides being huge, the keyword database is also updated frequently, which gives you the most up-to-date information. You can also get the latest stats on a keyword by doing a manual update. See #1 in the image below.
2. Easily discover search intent
Search intent is very critical for ensuring that you target your content according to the type of content your audience is looking for. Semrush is the only tool that shows you the search intent upfront for each keyword, so you don't have to guess and analyze SERPs. See #2 in the image below.
3. Find keywords with high ranking potential
Semrush's Keyword Magic Tool is fabulous for finding keywords that can help you rank high on Google and increase your traffic if you use them well. You can find semantic keywords and filter down keywords by a specific word, volume, keyword difficulty, SERP features, number of words, and many other metrics.
I have been able to increase my traffic significantly by zooming into the best keywords for me by using these filters and by creating content around them.
3. Detailed competitor research
There is hardly anything you won't find about a particular domain from Semrush. You will know their traffic, their best-performing pages, keywords, backlinks, and PPC data.
By understanding what your competitors are doing well, you can adapt and improve your own strategies to better meet the needs of your target audience. In addition, by knowing where your competitors get their backlinks from, you can identify potential link-building opportunities.
I especially love the Competitive Positioning Map. If you just type a domain in the Domain Overview tool, you will get a colorful map that shows you some competitive domains and the competitive positioning for each.
You can also see which kinds of keywords your competitor ranks the most.
No other SEO tool besides Semrush gives you this analysis about your competitor's domains. #seo #competitorresearch #searchintent
Click To Tweet
4.  Link opportunities and outreach
The Semrush backlink database is the largest among well-known competitors.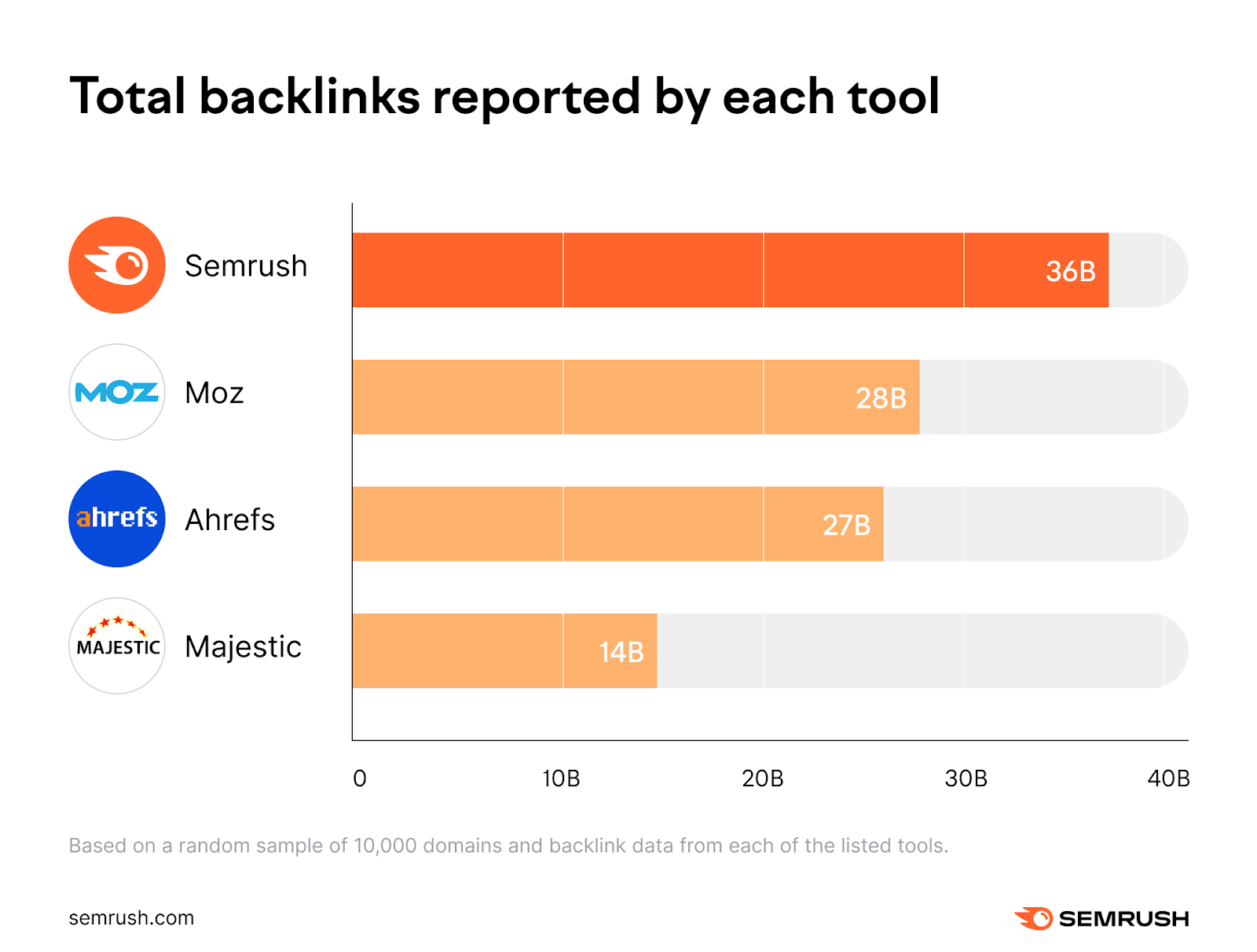 You can find detailed backlink metrics for any domain with Semrush's backlink checker. This helps you find plenty of link-building opportunities.
And it even goes one step more.
With the link-building tool, Semrush suggests to you relevant websites that you may be able to get backlinks from, and even lets you send them outreach emails through the platform itself! It's thus not just a tool for backlink analysis, but also for strategy and execution.
5. On-page and technical audit
On-page and technical SEO audits are essential for any website looking to rank higher on search engine results pages.
Semrush is one of the best tools available for performing these audits. It provides an extensive and detailed report for each audit, including both a summary of the findings and a step-by-step guide for fixing the identified issues.
The audit covers everything from site structure and code quality to content optimization and user experience. Best of all, the report is easy to understand and actionable, so you can quickly make changes to improve your site.
Why don't you do a site audit for your domain, and see which improvements you can make?
Remember to use the link for a 30-day trial so that you can also check after a couple of weeks the SEO progress of your website.
6. Excellent support
I've been using Semrush for more than a year now, and in my experience, their customer support is excellent.
I've always been able to get quick and helpful responses from their team for any question or issue I had.
They are always available to chat or email, and they are also very responsive on social media.
So far I've never had a problem that they were unable to solve, and they even followed up to make sure that I was satisfied.
If you are not an SEO expert this level of support can be extremely helpful, especially in the beginning.
7. Guides and tutorials
Admittedly, you need a bit of experience to get the hang of how to use the tool in the best way to get the most out of it. So this aspect is more of a con, as you will see later.
The big pro is that it has a learning portal called Semrush Academy that provides you with ample tutorials on how to improve your SEO by using its tools and features. This makes it relatively smoother for beginners to start using the tool.
Recently they even bought Backlinko and now they have one of my favorite SEO gurus, Brian Dean, conducting some courses.
Not just that, they also have beginner courses on SEO, to learn from scratch. Of course, you can learn SEO anywhere, but because they tie the courses to the tools, it makes it really easy to learn a lot about this topic step-by-step.
8. Long free trial
Semrush offers a free trial so you can try out their features before committing to a paid plan. The regular trial is for 7 days. Here's my special affiliate link again for a 30-day free trial.
Most other SEO tools (except Moz) offer a trial period for a maximum of 14 days. The extra 2 weeks that Semrush gives really help you understand the benefits and usage of the tool.
Semrush Cons
While the features of Semrush are no doubt fantastic, it is by no means perfect. Here are some aspects that you should consider before you sign up for this tool.
1. Provides data only for google
Semrush provides detailed SEO and website data that you could use to improve your marketing and SEO campaigns.
However, you should remember that Semrush provides data only for Google search results.
Pro Tip:
You can also connect Semrush to your Google Analytics and Search Console accounts.
However, this means that you can't use it to track your progress on other search engines, such as Bing, Yahoo, or Baidu.
Bing and Baidu have also localized search engines. So if you are based in the US/ China or your target audience is in these countries, then you may need to consider other tools like SE Ranking which provides data on other search engines.  Otherwise, you can make do with only Semrush.
2. More expensive than some competitors
Semrush, Ahrefs, Moz, are all very sophisticated tools and have similar pricing levels.
Semrush, for example, has 3 plans:
Pro: Starts at $119.95 monthly
Guru: Starts at $229.95 monthly
Business: Starts at $449.95 monthly
These are more expensive than for example an SEO tool like SE Ranking, which also offers quite a few features and starts at $23 a month.
This is what makes the Semrush pricing worth it:
The largest database of keywords so you can find a lot of opportunities to rank on page 1 of Google. And that's the goal anyway, right?
The largest database of backlinks so you can find link-building opportunities. Backlinks will increase your domain authority and also your search engine positions
Plenty of additional tools like the Socia Media Toolkit that lets you post your content on social media
Besides, Semrush also offers promos and lifetime deals that make it more economically beneficial for you.
It's simple. More advantages = higher price. So the only way to decide if this tool is worth the price is to try it out and see the advantages it offers and if you really need it. You can start with a free trial of 30 days.
3. Moderate learning curve
I would rate the learning curve for Semrush as moderate. If you have no prior experience with SEO, it could take some time to get used to the software. Semrush has a wide range of features and options that can be overwhelming for newcomers.
However, SEMrush is designed to be user-friendly and as mentioned above, there are plenty of tutorials and support available to help you get started. Once you get the hang of things, you'll be able to use Semrush to its full potential and reap all the benefits that it has to offer.
Semrush Pros and Cons: Conclusion
If you are new to SEO and wondering if Semrush is a good fit for you, then a lot of the above information can feel overwhelming. The only to understand the Semrush pros and cons fully is to see how the tool works is to actually use and test it. Start with a free trial.
Do you use this SEO tool? What do you think about the Semrush pros and cons? Would love to know your experience!