If you have a website or are managing one, you definitely want to improve your website and online presence.
This makes SEO very important, and one of the best tools to help with that is Semrush.
I absolutely adore this tool and in full disclosure, I am an affiliate marketer for it.
However, like any tool, Semrush also has its drawbacks, which you should consider before deciding whether or not to use it.
In this Semrush review, I will share the Semrush pros and cons from my experience so that you can make an informed decision about whether or not to use it for your business.
What is Semrush?
Semrush is a comprehensive marketing toolkit that can help your business, irrespective of size, to improve its website visibility and search engine rankings and achieve its marketing goals.
It offers all the essential SEO analytical features, some advanced SEO tools, content marketing tools, and also toolkits for link-building, advertising, social media, and more.
Related: Benefits of SEO for small businesses
If you want to check out this tool while reading this post on the Semrush pros and cons, you can use my affiliate link to get an exclusive 14-day free trial. The regular trial period is for 7 days.
Now let's get into the Semrush review and the pros and cons so you can decide if this tool is a good fit for you in the long run.
Semrush Pros and Cons
Semrush is an one-stop shop for digital marketing and SEO. Its biggest pros include being the most powerful keyword research tool, and a wide range of features that allow you to collect other in-depth SEO insights like competitor analysis, website audits, and backlink analysis.
It also offers social media and content marketing tools that can help you create and manage effective campaigns.
However, Semrush can be costly if you are working with a tight budget. It also has a steep learning curve, and the sheer amount of data and features it provides can be overwhelming for beginners or those without prior knowledge in digital marketing.
Should you choose Semrush? Continue reading the detailed Semrush pros and cons to decide!
Semrush Pros
1. All-in-1 marketing toolkit
One of the reasons I am a big fan of Semrush is that it is not just an SEO tool. It is an all-in-1 marketing toolkit that provides you with the insights and tools I need to improve my online visibility and reach my target audience.
It gives you detailed insights into your website's traffic, SEO, PPC, social media, content marketing, and more. Basically, it helps you to track your progress and performance regarding all aspects of your digital content strategy.
Additionally, it can also help you to spy on your competitors and see what they are doing well or badly so that you can improve your own customized SEO strategy.
2. Wide range of SEO features
Out of all the features that Semrush offers, undoubtedly SEO is the one used the most, and that's the next point of this Semrush review.
A big Semrush pro is that it offers all the SEO features you can think of, including keyword research, competitor analysis, site audit, backlink analytics, and everything that supports your search engine positioning strategies.
In addition, it also offers tools that don't come with all advanced SEO software:
Backlink Audit: Scans your site for harmful backlinks
Traffic Analytics: Shows the traffic sources of your competitors along with their number of visitors
EyeOn tool: Alerts you of changes or updates in your competitors' SEO/ SEM activities, like publishing new blog posts or launching Google Ads
You can also use Semrush to find keywords and then enter them into an SEO plugin like Yoast or RankMath to optimize your content and on-page SEO.
3. An exclusive content marketing toolkit
SEO is not complete without content and that is where the next pro of Semrush comes in.
Semrush is the only SEO tool to offer s separate content toolkit called the Content Marketing Toolkit to research SEO blog topics and create and optimize them. The Content Toolkit offers 3 primary tools:
Topic Research: Helps you find the best low-competition topics and keywords for your content
SEO Content Template: Provides you tips and recommendations on how to create the most optimized content for your focus keyword
SEO Writing Assistant: Integrates with WordPress and Google Docs to optimize your content as you write it, and also checks for plagiarism on Google Docs.
Read my full post on the Semrush Content Marketing Toolkit to review the optimization tools that make your content marketing easier and more effective.
4. The biggest keyword and backlink databases
The keyword database for Semrush is more than 22 billion, which means that you are assured of finding the best keywords to help you rank high on Google.
I have had pages ranking within days on page 1 of Google, by targeting low-competition keywords through Semrush.
Their backlink database is also the largest, covering 43 trillion keywords!
The size of this database means that you will always get the most accurate and updated backlink data for both you and your competitors, which will help a lot when you create your link-building campaigns.
5. The best keyword research tool
My absolute favorite keyword research tool is the Semrush Magic Tool, that lets you find low-competition keywords. It is one of the biggest Semrush pros, though not many people realize that if they don't use the tool.
Yes, literally. Semrush's keyword research tool is the best in my opinion, compared to all other SEO tools. @semrush #seo #keywordresearch
Click To Tweet
Here's why.
As I already mentioned earlier, Semrush has the most comprehensive keyword database out of all SEO tools. So you can find the most relevant keywords and content topics for website optimization, no matter what industry you're in.
Here are more reasons why I believe that its keyword research tool is the best among all the SEO tools in the market.
5.1. Get the most up-to-date keyword stats
A big pro of Semrush is that besides being huge, the keyword database is also updated frequently, which gives you the most up-to-date information. You can also get the latest stats on a keyword by doing a manual update. See #1 in the image below.
If you see the circular symbol for any keyword, just click on it, and the keyword and SERP data will refresh instantly.
5.2. Easily discover search intent
Search intent is very critical for ensuring that you create content based on your audience's needs.
Semrush is the only SEO tool so far that has a search intent tool that shows you the search intent upfront for each keyword, including high-intent keywords, so you don't have to guess and analyze SERPs. See #2 in the image below.
5.3. Find keywords with the most ranking potential
Semrush's Keyword Magic Tool is fabulous for finding keywords that can help you get noticed on Google and increase your traffic if you use them right.
You can find semantic keywords and filter down keywords by a specific word, volume, keyword difficulty, SERP features, number of words, and many other metrics.
I have been able to increase my traffic significantly by zooming into the best keywords for me by using these filters and by creating content around them.
5.4. Most accurate data on keyword volume
Not only does Semrush have the biggest database of keywords, the search volume accuracy of the data is also the best among all its competitors.
This is important because SEO and content marketing is tricky as it is, so you want to make sure you are relying on the most accurate data to develop your strategies around.
So when you are evaluating if a certain keyword is worth it because of the volume, you know you will get the best data that you can possibly get, the data that's closest to Google.
6. Detailed competitor research
There is hardly anything you won't find about a particular domain from Semrush. You will know their traffic, their best-performing pages, keywords, backlinks, and PPC data.
By understanding what your competitors are doing well, you can adapt and improve your own strategies to better meet the needs of your target audience. In addition, by knowing where your competitors get their backlinks from, you can identify potential link-building opportunities.
I especially love the Competitive Positioning Map. If you just type a domain in the Domain Overview tool, you will get a colorful map that shows you some competitive domains and the competitive positioning for each.
You can also see which kinds of keywords your competitor ranks the most.
No other SEO tool besides Semrush gives you this analysis about your competitor's domains. #seo #competitorresearch #searchintent
Click To Tweet
The Traffic Analytics tool is almost like getting a peek at your competitors' Google Analytics as it gives you data on their traffic sources and number of users, bounce rates, time on page, etc.
7. Robust link-building and outreach tool
Because of Semrush's massive backlink database, you can find detailed backlink metrics for any domain with Semrush's backlink checker. This helps you find plenty of link-building opportunities.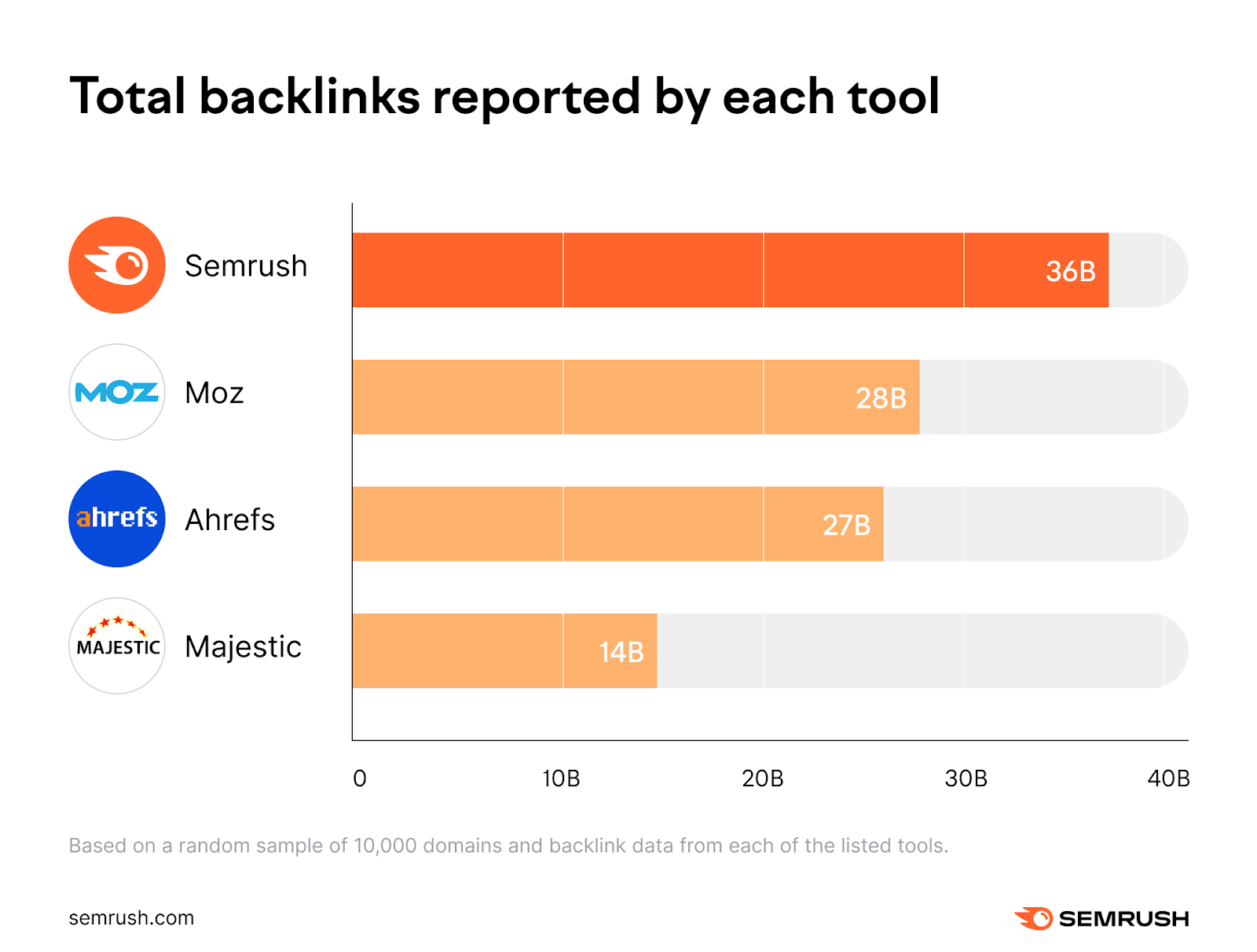 Semrush pros don't stop at just research. It even goes one step more.
With the link-building tool, Semrush suggests to you relevant websites that you may be able to get backlinks from, and even lets you send them outreach emails through the platform itself!
It's thus not just a tool for backlink analysis, but also for strategy and execution.
8. Comprehensive on-page and technical audit
On-page and technical SEO audits are essential for any website looking to rank higher on search engine results pages.
Semrush is one of the best tools available for performing these audits. It provides an extensive and detailed report for each audit, including both a summary of the findings and a step-by-step guide for fixing the identified issues.
The audit covers everything from site structure and code quality to content optimization and user experience. Best of all, the report is easy to understand and actionable, so you can quickly make changes to improve your site.
Why don't you do a site audit for your domain right now, and see which improvements you can make?
Remember to use the link for a 14-day trial so that you can also check a couple of weeks later the SEO progress of your website.
9. Excellent support
I've been using Semrush for more than a year now, and so far their customer support has proved to be excellent. I've always been able to get quick and helpful responses from their team for any question or issue I had.
Depending on the issue, the time frame for a solution varied, but they took care to fix my issues, even when I was only using a Semrush free account.
They are also very responsive on social media and even respond to my tweets!
So far I've never had a problem that they were unable to solve, and they even followed up to make sure that I was satisfied.
If you are not an SEO expert this level of support can be extremely helpful, especially in the beginning.
10. Guides and tutorials
Admittedly, you need a bit of experience to get the hang of how to use the tool in the best way to get the most out of it. So this aspect is more of a con, as you will see later.
The big pro is that it has a learning portal called Semrush Academy that provides you with ample tutorials on how to improve your SEO by using its tools and features. This makes it relatively smoother for beginners to start using the tool.
Recently they even bought Backlinko and now they have one of my favorite SEO gurus, Brian Dean, conducting some courses.
Not just that, they also have beginner courses on SEO, to learn SEO from scratch. Of course, you can learn SEO anywhere, but because they tie the courses to the tools, it makes it really easy to learn a lot about this topic step-by-step.
11. Longest free trial for an SEO tool
Semrush offers a free trial so you can try out their features before committing to a paid plan. The regular trial is for 7 days.
But wait for it…
Semrush is the only tool that offers you a 14-day free trial period on both their Pro and Guru plans, through affiliate links.
Click To Tweet
Here are my special affiliate links again for a 14-day free trial for Pro and a 14-day free trial for the Guru plan.
Most other SEO tools (except Moz) offer a trial period for a maximum of 14 days.
The extra 2 weeks that Semrush gives really help you understand the benefits and usage of the tool before you commit to buying it.
Semrush Cons
While the features of Semrush are no doubt fantastic, it is by no means a perfect SEO tool. Here are some aspects that you should consider before you sign up for this tool.
1. Hefty price point
One of the biggest Semrush cons is its price. Semrush plans start at $119.95 per month for monthly payments, which can be a significant investment for small businesses or individuals.
The Semrush pricing is similar to other sophisticated tools like Ahrefs and Moz, and they all have similar pricing levels, though the exact features in each differ.
Semrush, for example, has 3 plans:
Pro: $119.95/ month for a monthly payment plan
Guru: $229.95/ month for a monthly payment plan
Business: $449.95/ month for a monthly payment plan
These are more expensive than for example an SEO tool like SE Ranking, which though not as robust, also offers quite a few features and starts at $23 a month.
This is what makes the Semrush pricing mostly worth it:
The largest database of keywords and databases, which means you get the best data on keywords and links: the top two criteria for ranking!
Plenty of additional tools like the Content Marketing and Social Media Toolkit let you create optimized content and post it on social media
Besides, Semrush also offers promos and Semrush Black Friday deals, along with a  Semrush lifetime deal that makes it more economically beneficial for you to get Semrush.
It's simple. More advantages = higher price.
So the only way to decide if this tool is worth the price is to try it out and see the advantages it offers and if you really need it. You can start with a free trial of 14 days.
Related: Free trial SEO services
2. Moderate learning curve
I would rate the learning curve for Semrush as moderate, depending on how quickly you can start using an SEO tool. If you have no prior experience with SEO, it could take some time to get used to the software and learn how to use all the features effectively.
Semrush has a wide range of features and options that can be overwhelming for newcomers.
It has taken me more than a year to familiarize myself with all the toolkits, and I am pretty sure I still don't know everything I can do with this tool to improve my digital marketing.
Pro Tip:
The benefits and rewards you can get out of Semrush are enormous, you can skyrocket your SEO performance.
But, you have to use the tool regularly and try out the features step by step, to get the most out of it.
The good news is that as you do more, you learn more, and then the rewards can be fabulous!
The tutorials and support help you go a long way, but if you sign up for Semrush, don't give up in a couple of months. You will need time to really use Semrush to its full potential.
3. Some key features are only available in the more expensive plans
I mentioned earlier the Semrush Content Marketing Toolkit. While it is a fantastic tool, you cannot use it extensively with the Pro plan of Semrush, which is already quite expensive.
You have to get the Guru plan, which starts at $191.62 per month for annual payments.
Some other convenient features like the Semrush historical data are also available only with the Guru plan. You can get a 14-day free trial for Guru and explore the features.
The Guru plan can be a bit expensive for small businesses and small-scale freelancers. But then again, if you have a very small business, you can already do a lot with the Pro plan.
If you are a mid-sized business or a full-time SEO consultant, the Guru plan is great. You need it, and most likely can afford it.
4. UX/ UI is not very beginner-friendly
While Semrush is possible to use by both beginners and SEO experts, it is still more of a tool if you want to take SEO seriously, and have some basic idea of SEO.
So you know what you have to look for, instead of everything presented to you on a platter and made to look simple with colored charts.
The UX is great and very intuitive once you have worked with the tool a bit.
But right at the onset, you may find it a bit hard to handle, compared to other Semrush alternatives. These could include small-scale beginner-friendly tools like SEO PowerSuite, SE Ranking,  or Mangools.
5. Provides data only for google
The first Semrush con is that it provides detailed SEO and website data that you could use to improve your marketing and SEO campaigns, but only if you want to rank high in Google Search.
Semrush collects and provides data only for Google search results.
However, this means that you can't use it to track your progress on other search engines, such as Bing, Yahoo, or Baidu.
Bing and Baidu are also localized search engines.
So if you are based in the US/ China or your target audience is in these countries, then you may need to consider other tools like SE Ranking which provides data on other search engines.
6. Login limited to one device in the Pro plan
Sometimes I have Semrush tabs open on my laptop. But let's say I step away for a bit, and want to open Semrush on my phone as well.
I can do that, but then it logs me out of my laptop 🙁
While this is not a big con for Semrush, if you are using the Pro plan, and you want to have multiple people in your team using Semrush, it can be a problem.
So if your business has 1+ members, which could also include a virtual assistant or freelancer from Fiverr, you cannot use Semrush simultaneously.
Is Semrush worth it?
Semrush is frankly, worth every penny for the data and insights it offers on both your own and your competitor's website performance to help you to improve your SEO and content marketing. It offers immense value for money if you are serious about creating regular content and working regularly on your SEO activities.
However, if you are completely new to SEO, then Semrush can feel overwhelming and a bit expensive.
I'm a big fan of Semrush. I've been using it for a little over two years and it's helped me to grow my website performance tremendously. I use it regularly for my ongoing SEO maintenance.
Here are some of the tools and aspects I love most about Semrush:
Find keywords from the keyword database of 20 billion to help you rank on page 1 quickly
Filter keywords to find the ones most relevant for your business
Find new keywords quickly just by comparing your website to your competitors
Quickly understand the search intent of each keyword
Know the biggest traffic channels of your competitors
Get a lot of tips from the on-page checker to improve your website for your target keyword
Find link-building opportunities matched with outreach strategies from specific domains and types of pages
Friendly and super-helpful Semrush staff ready to support and help you
I truly believe Semrush is an incredibly powerful tool that can help you take your business to the next level, like it has mine.
If you want to experience it first-hand, start your 14-day trial to explore this tool for free and decide for yourself!
Semrush Pros and Cons Conclusion – Is Semrush for you?
Here is a summary of the Semrush pros and cons.
All-in-1 Marketing Toolkit

Wide range of SEO and content marketing features

The biggest keyword and backlink databases

Detailed competitor research

The best keyword research tool

Robust link-building and outreach tool

Comprehensive on-page and technical audit

Guides and tutorials available

Longest free trial for an SEO tool

Provides data only for google

Moderate learning curve because of the extent of features

UX/ UI is not very beginner-friendly

Login limited to one device in the Pro plan
Semrush's pros are its powerful SEO features and its biggest con is the price. So as mentioned above, if you weigh its potential benefits against its cost, it's a worthwhile investment for businesses that need a comprehensive digital marketing platform.
The pros far outweigh the cons.
However, it still doesn't mean that it is the SEO tool that you should choose for your small business.
You need to choose an SEO tool that meets your individual needs, budget, and goals, and the stage of your SEO journey.
There are SEO tools much cheaper than Semrush on the market like SE Ranking or Mangools that offer basic SEO features which is enough for the starting stage.
However, if you have some experience in SEO and want to take your search engine visibility to the next level, Semrush can be an invaluable investment.
The only to understand the Semrush pros and cons fully is to see how the tool works to actually use and test it. Start with a 14-day free trial.
Do you use this SEO tool? What is your Semrush review and what do you think about the Semrush pros and cons? Would love to know about your experience!